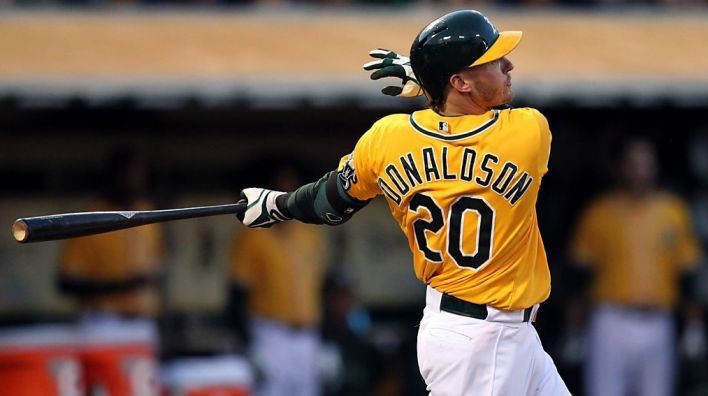 Editor's Note:
This is a fun post because it includes actual comments from Josh Donaldson. I always say, "If I could talk to this hitter, I would ask THIS question. With this post, I could ask that question (and I hope to have more MLB players involved in the future!) A huge thanks goes out to Josh for helping out with this!

Follow Josh Donaldson on Twitter
Follow @BringerOfRain20

Josh Donaldson has gotten out to a healthy start in 2013. He has earned the starting job at third base for the Oakland A's and was named the American League Player of the Week the week of 4/29/13. Through 34 games this year, he is hitting .294 and has 11 doubles, 3 homers, 23 RBI with an OPS at .843.
Donaldson is building off a good second half in 2012 when he hit .290 with 11 doubles, 8 homers, 26 RBI with a .844 OPS over 47 games.
A scout friend of mine was able to dig up some old footage from when Josh was at Auburn where he was a 1st round pick (48th overall) in 2007. So to start the breakdown on his swing, we are going to look at his college batting practice swing compared to his college game swing compared to a recent MLB home run.
Side View Swing Comparison
Normal Speed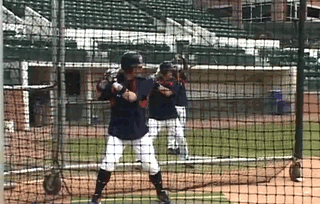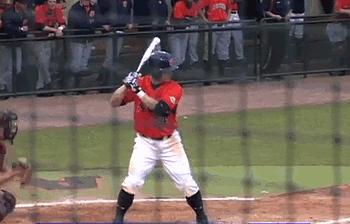 Slow Speed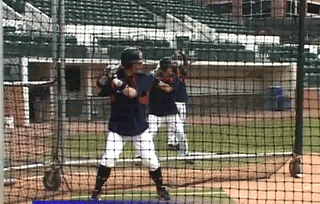 As you can clearly see, Josh's swing has much bigger actions now. In the BP clip, you can see intent to get the foot down early. The game clip has an aggressive move forward, but I'd say it is more of a push forward compared to now.
While some people might think the bigger leg kick is too much movement, when you use it properly it actually offers a great deal of control. You obviously shouldn't just be lunging forward, but the leg kick into the creep forward allows the hitter to be balanced on the back leg during pitch recognition. This is where I see hitters establishing good adjustability to the pitch they are facing.
Here are the three clips with the "get back" and load portion. Notice that in all three there is that late lift of the hands when the body is going forward as the front foot is working toward the ground. That is rare, that is a big part of the elite pattern.
Get Back and Loading Isolation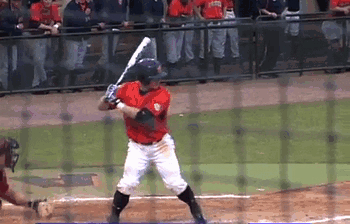 Question to Josh: Why has your swing changed over time?
JD: Mostly understanding the way my body works and understanding the swing process and what I have to do before the game to make sure it just happens during the game.
Behind/Overhead View Swing Comparison
This isn't the perfect angle, but I love overhead views and it is close enough that I think it can be learned from. Plus, it is will help us understand the side view more.
Normal Speed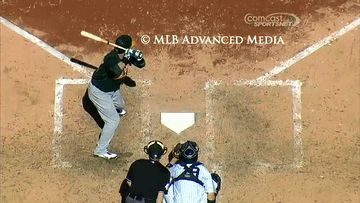 Slow Speed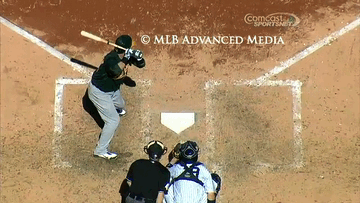 Again, we see the difference between lower body styles but the hand lift is still there. I want to isolate the get back and load frames again. Consider what the takes would look like between these two swings. The current MLB swing would be bigger. Bat speed is more aggressively created away from the ball. Good direction created, depth created.
Get Back and Loading Isolation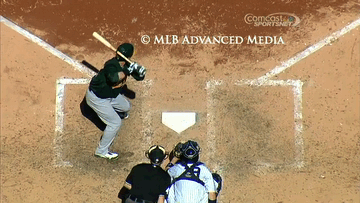 In the college swing, those things are still happening, but it is just a lot smaller. A lot more "quiet."
Adjusting to Off-Speed Pitches
With the new timing feature, I can isolate some really cool aspects of the timing involved in the swing. With this section, we are going to look at how Josh adjusts to an off-speed pitch.
First, the clips.
Normal Speed Comparison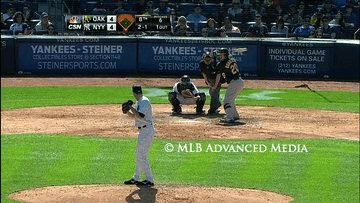 Slow Speed Comparison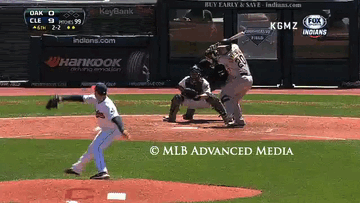 The top clip is a 93 mph 2-1 fastball hit into the second deck in Yankee Stadium. It was also a go-ahead homer in the top of the 8th. The bottom clip was a 83 mph 2-2 curveball. So we are dealing with a 10 mph speed difference with these two pitches.
I get A LOT of questions about off-speed pitches. And I get a lot of people who talk trash about the mechanics I talk about because they don't understand this aspect.
The movement creates the ability to adjust.
When the movement happens matters. When the hitter reads the pitch in the sequence matters. How the barrel moves matters. The alternative is to load, then swing. On an off-speed pitch, it becomes load, wait, then swing. I just don't understand how people argue that the pause creates a mechanical advantage – especially when the best hitters don't do it! Delaying or slowing down the movement is very different than actually stopping.
Let's look at the time from pitch release to contact in these two clips. The clock starts at pitch release…
The ball was hit between 0.401 and 0.434. I feel comfortable using 0.415 as the time for this clip.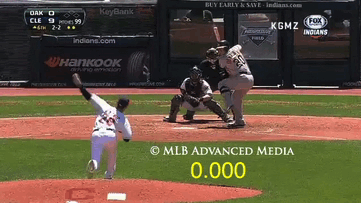 The ball is hit between 0.433 and 0.467, so we'll use 0.460 based on where the ball is relative to the barrel.
Using the 0.415 and 0.460 numbers, this means there is about 0.045 seconds difference between the clips. Even when counting the frames manually, I estimated a 1.5 frame difference. With each frame representing 0.033 seconds, this method creates a 0.050 difference.
Either way…
We are dealing with a difference of about five hundredths of a second!
This adjustment happens DURING pitch recognition. If the hitter is swinging at the pitcher's arm action, they will be in trouble. They need to time the ball!
Question to Josh: How do you adjust to off-speed pitches?
JD: Sometimes just sitting on breaking ball and starting later, but I think the most important part is the separation or leaving your hands and being able to delay your bat angle and landing into a bent front leg.
Other Questions for Josh Donaldson
I had three other questions for Josh not specific to the clips above.
BT: Who are your favorite hitters, past or present?
JD: Past – Sammy Sosa
Now – Jose Bautista, Miguel Cabrera and Allen Criag
Sammy Sosa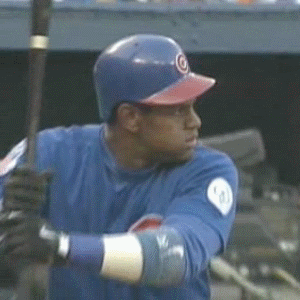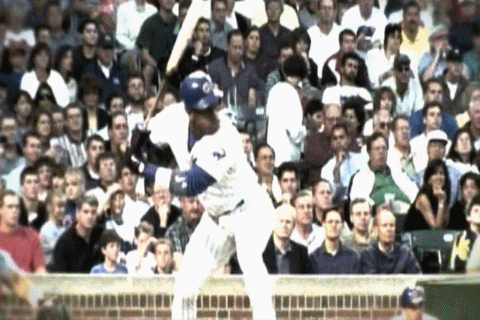 Jose Bautista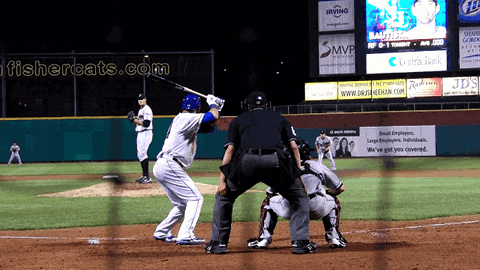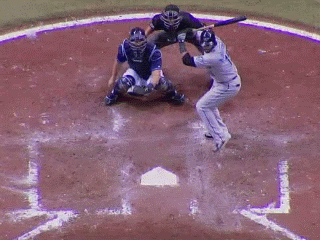 Miguel Cabrera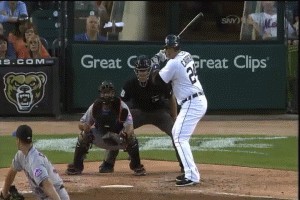 Allen Craig


BT: What advice do you have for young hitters when it comes to swing mechanics based on your experiences in your career?
JD: Start from the ground up! Don't be scared to find your inner Latino. Have rhythm, have confidence and don't be scared to swing and miss! If you can't pimp a strike out, you can't pimp a tank!
BT: The other day I asked you "What do you take pride in as a hitter." Your answer was, "Not giving away at bats." Can you explain what that means to you?
JD: I want to have one focus, one thought. If I do get out I want that pitcher to think, "Man I'm glad his AB is over!"
Closing Thoughts
Thanks again to Josh Donaldson for offering his comments!
I really enjoy being able to look back on a hitter's development and this should serve as some inspiration to make sure that camera is rolling on your own swings!
Comment below!