Email me at Bobby@TewksHitting.com and let me know how you did!
If you got here by doing sample email follow-up, I'm glad you took the opportunity to participate! If you are interested, in the eBook, you can get back to the page here:
Elite Swing Mechanics eBook
Hitter A – Oswaldo Arcia
You probably noticed that this clip was from a different angle than almost all the others. I was walking around the fields most of the day, then before I left I saw this hitter in the cage just smashing baseballs. I took the video and thought to myself that he had nice actions – probably the best I'd seen from a minor league guy all day. After that, I didn't think much of it.
Later in the season, the Twins AA team was playing 15 min away and I went to see the game. Arcia had been called up and was crushing. Come to find out, he is one of the top prospects in the Twins system. He is in AAA now. He has great actions, very aggressive takes. When I saw him take BP last year, I commented that it sounded like he was hitting rocks instead of baseballs.
Hitter B – Aaron Bates
Very big and, strong, but mostly pushes the ball. Check the take early in the clip – pushing to create bat speed. He flattens the bat before pushing which may cause you to confuse patterns. Doesn't create depth or direction and doesn't have the fastest hands to begin with. Bates has MLB time but as far as I can tell he is out of affiliated baseball and was playing independent ball at the end of 2012.
Hitter C – Joe Benson
Benson is a scary one for me. He looks stuck between all three patterns and ends up with none of them. He is considered to be a top prospect in the Twins system but has really struggled the last couple years. I would bet he had really good patterns earlier in his career, then has been coached out of them. I hope he finds the right feel again. All scouting reports say he is a tremendous athlete and I know it isn't fun to struggle like he has.
He does have MLB time as well.
Hitter D – Sean Burroughs
A former 1st round pick, Burroughs has a swing that looks nice. He is pretty strong, has a consistent path through the ball… but he pushes. Doesn't have the mechanical advantages available to him. He was in AAA last year but doesn't have a team in 2013. He has time in the big leagues, but was never able to stick. He had some solid seasons when he was young, but the power never developed as needed for a corner infielder.
Hitter E – Chris Colabello
You should know who Chris is by now! He has made tremendous progress with his swing and I believe he is swinging in a really good pattern. I wanted to share a couple comparison clips I've made of him recently. Hopefully you didn't recognize him and had an unbiased review of his swing.
Didn't know I was filming, wasn't "swinging for video" at all. Just taking a swing, feeling through things.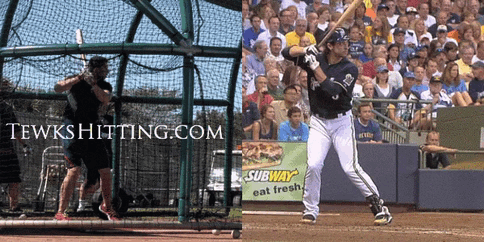 On this swing, Chris hit the ball off the batter's eye in center.
Update: Chris was the International League (AAA) Player of the Week in his first week of AAA baseball! Congrats Chris!
Hitter F – Ryan Doumit
The overall impression I got from Doumit is that he isn't a great athlete (not fluid, looks restricted) but his overall pattern and actions are solid. This is 2013 video and felt the same about him when I saw him in 2012. He's a solid MLB hitter – especially considering his athleticism. His value is as a catcher to give Joe Mauer time away from catching and as a switch hitting DH. (Righty swing is very similar.)
Hitter G – Brian Dozier
Dozier is currently on the MLB roster and is getting a lot of playing time. He is kind of a push/pull combo. Pulls with bottom hand, pushes with top hand. I consider this to be more of a push pattern where the pull pattern is more shoulder rotation. He is a guy who I would call "solid" for practical purposes, but MLB pitching with advanced scouting reports will be a challenge. Doesn't create depth, would really benefit from better direction.
Hitter H – Eric Fryer
Hard pull. Needs to rely on quickness, athleticism for success. Really limited in terms of direction. Has major league time with Pittsburgh as a catcher. You may be able to see his arms move before committing… This gives him some angle, but he isn't creating bat speed until things more toward the ball.
Hitter I – Chris Herrman
Another pull hitter. You'll see his arms get back as the body goes forward, but he doesn't create bat speed until he goes forward. When he gets forward, he isn't creating resistance. He just kind of drifts forward while positioning his arms. Creates an angle that will allow for some success, but isn't creating mechanical advantage. Has MLB time (September call up in 2012) and played at the University of Miami.